Pakistan Cricket Team Arrives in India. Pakistan will commence their ODI World Cup campaign with a warm-up match against New Zealand on September 29, followed by a clash against Australia on October 3. This marks the Pakistan cricket team's first visit to India in seven years. After a lengthy layover in Dubai lasting nine hours, the Babar Azam-led squad arrived in Hyderabad. They embarked on their journey from Lahore in the early hours of Wednesday and reached Hyderabad by nightfall.
Pakistan Cricket Team arrives in India after 7 years
The tournament opener for Pakistan will be against Netherlands, and they will face Sri Lanka on October 10. It's worth noting that the Pakistan players received their Indian visas less than 48 hours before their scheduled departure, as cricket encounters between India and Pakistan are limited to Asia Cup and ICC events due to the ongoing diplomatic tensions between the two nations.
Only Mohammad Nawaz and Salman Ali Agha have had previous cricket-related visits to India. Babar Azam missed the 2016 T20 World Cup in India due to an injury. Zaka Ashraf, head of the PCB management committee, expressed confidence in the security and arrangements provided by the BCCI and ICC, assuring that Pakistan's team would not face any issues in India.
Babar Azam, prior to the team's departure, expressed his enthusiasm for playing in India, particularly in Ahmedabad, where they would face their arch-rivals in front of a capacity crowd exceeding 100,000. He emphasized that while this would be Pakistan's first time playing in India, they were not burdened by excessive pressure. Babar mentioned that they had conducted thorough research and believed the playing conditions would be similar to those in other Asian countries.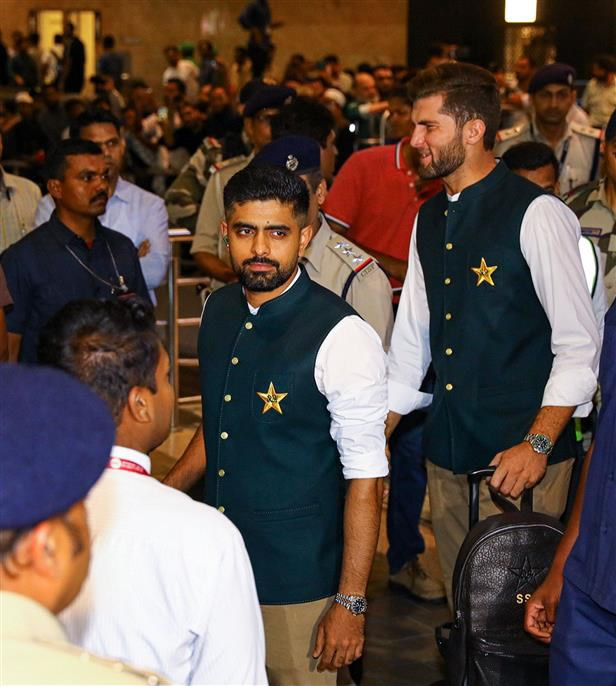 "I am excited to play in Ahmedabad as it will be jam-packed. I will try my best to perform up to my potential, I am not worried about my individual accolades; and want to make sure whatever I do contributes to the team's success," he stated during the pre-departure media conference.