In the thrilling Super Fours stage of the Asia Cup 2023, the race for a spot in the final has intensified, and the updated points table reflects the fierce competition among the participating teams. After a series of nail-biting encounters, India has secured their place in the final, showcasing their dominance in the tournament. With a flawless performance in the Super Fours, India has left cricket enthusiasts across the continent in awe with their impeccable teamwork and remarkable individual performances.
Asia Cup 2023 Super Fours updated points Table: India seal spot in final
As the tournament progresses, other teams are battling fiercely to claim the remaining spot in the final. Pakistan, Sri Lanka, and Bangladesh are locked in an intense struggle, each vying for the opportunity to challenge India for the coveted Asia Cup title. With every match bringing new twists and turns, fans can expect more excitement in the days to come as the competition in the Super Fours stage reaches its climax.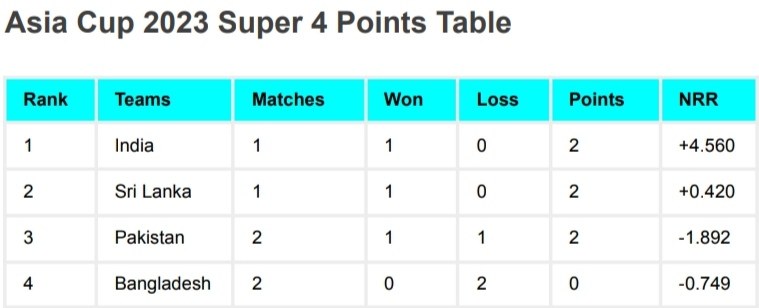 The Asia Cup 2023 has genuinely lived up to its reputation as one of the most prestigious cricket events in the region, with teams leaving no stone unturned in their quest for glory. As the tension builds in the Super Fours, cricket enthusiasts eagerly await the thrilling clashes determining who gets the chance to challenge India in the final showdown. With each match being a do-or-die encounter, the Asia Cup continues to captivate fans with its remarkable cricket action.